Tyler creates authentic imagery of athletic humans immersed in fitness, sport and adventure on location.
Tyler is a Sports & Active Lifestyle photographer who specializes in action and environmental portrait photography to produce compelling images of athletic humans immersed in fitness, sport and adventure on location. His photography is shaped by a creative eye that seeks to capture moments of peak athletic expression in outdoor locations. The results are crisp, natural looking images with a commercial edge.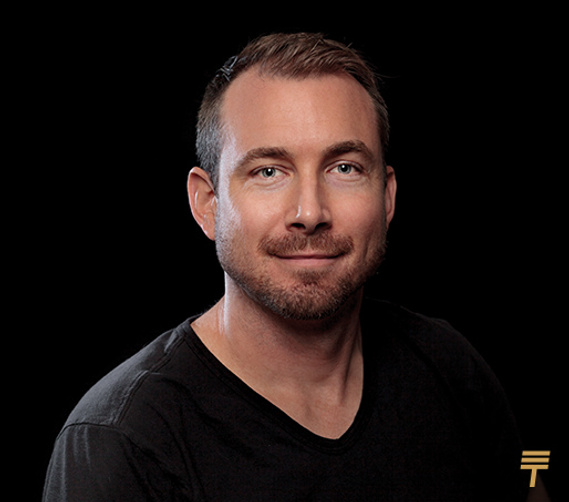 Artist

Tyler shoots brand photography in an editorial style for consumer brands, models and ambassadors in the Sports & Active Lifestyle Industry. Tyler commits himself to photographing active humans expressing themselves through fitness, sport and adventure in the outdoors. He serves his clients by turning unique moments into authentic imagery to elevate their brand story.
Collaborator
Tyler comes from an advertising and design background having nearly two decades experience as an art director. Through his work in the advertising industry, he understands how demanding the creative process is when building a campaign. He understands how integral quality assets are to the success of a marketing message. Tyler's ability to think from an art director's perspective enriches his clients' experience. Throughout the production, you can count on him to be a creative collaborator who respects the time and opinion of others; to be a thoughtful problem-solver; and to inspire those around him to achieve their best creatively.
Principled
Firmly believing in social and environmental responsibility, Tyler aspires to work with clients whose culture and actions align with this belief. Tyler respects people of all backgrounds and is an advocate for the preservation of the planet through conscious choices. With every shoot, comes the responsibility to leave a positive impact on the people and location around him.
Nimble
When you commission Tyler's photography services, you will receive a carefully planned and produced shoot that delivers on the brief and yields high quality assets in a timely manner. Productions are small in scale and nimble to ensure mobility. They are comprised of talent, an assistant and Tyler working on location in public and private spaces.
While it's imperative that quality images get produced in an efficient and timely manner, Tyler isn't a 'churn and burn photographer.' Pointing and shooting through hundreds of frames as if you're casting a net and hoping you land a big fish isn't his style. Tyler crafts his setups carefully, ensuring his lighting is appropriately shaping the talent, and that the background adds to the narrative free from distractions. Preparing the shot leads to better quality images from the onset and greatly reduces excessive images.
If your concept demands a larger production, Tyler is happy to accommodate those needs through a detailed discussion about project-scope and through hiring a producer(s) to ensure that creative needs are met from every aspect of the production.
Passionate
As a former three-sport high school athlete and an outdoor adventurer who snowboards, backpacks and travels abroad, Tyler has always loved the freedom that comes with sports and adventures. Tyler shares a passion for adventurous and active lifestyles, which is why he finds this genre so exciting to photograph. Whether traveling, hiking or rock climbing, it's the sense of wonder and liberation that makes participating in and photographing these endeavors so gratifying.
Partner
Tyler is interested in creating for the following types of clients: apparel designers, sports and recreation equipment manufacturers, adventure sports outfitters & guides, eco-tourism companies, rock climbing athletes & guides, surf athletes & instructors, personal trainers, yoga & pilates instructors, and fitness models.
Contact

Working out of Portland, you can find Tyler where inspiring environments can be found in the mountains, beaches, deserts or city. Tyler's services are available for assignment across the western United States for commercial, advertising, editorial and private clients. To inquire for further information, get in touch.

#LetsShoot!